>
国际
胡同文化|梨园绽蕾群英荟萃探寻京剧的摇篮——百顺胡同
发布时间:2022-09-22 11:02:14 | 来源:中国网 | 作者: | 责任编辑:
胡同文化|梨园绽蕾群英荟萃探寻京剧的摇篮——百顺胡同

Hutong Culture|Baishun Hutong: Cradle of Peking Opera
探秘胡同深处的京味文化
Explore Beijing culture hidden in hutongs
胡同是什么?大大小小的四合院相互挨着,排列在两侧街道上,它们之间留出的通道就是胡同。胡同也可以说是一种古老的城市小巷。千百年来,胡同与北京的发展紧密相关,也是北京历史文化演绎发展的缩影,这里不仅集合了中华古都文化、红色文化、京味文化,而且凝结了北京特有的文化精神与气韵。随意漫步在任何一条胡同上,都能感受到古老的历史气息。
北京的胡同当中,最为著名的便是由百顺胡同、胭脂胡同、韩家胡同、陕西巷、石头胡同、王广福斜街(现棕树斜街)、朱家胡同、李纱帽胡同(现小力胡同)所组成的"八大胡同",本期我们就来探寻下位列"八大胡同"之首的百顺胡同。
What is a hutong? Hutong refers to an alley flanked by siheyuan (quadrangle residences) on both sides. It is a kind of old lanes and alleys in cities. Across centuries, hutongs have always been closely related to Beijing's development. As an epitome of the evolution of Beijing's history and culture, they not only concentrate ancient capital culture, revolutionary culture and old Beijing culture, but also demonstrate Beijing's unique cultural spirit and flair. Roaming in any hutong feels like traveling into history.
The"Eight Great Hutongs" of Beijing are Baishun Hutong, Yanzhi Hutong, Hanjia Hutong, Shaanxi Lane, Shitou Hutong, Wangguangfu Xiejie (today's Zongshu Xiejie), Zhujia Hutong, and Lishamao Hutong (today's Xiaoli Hutong). Now, let's take a look at Baishun Hutong, head of the"Eight Great Hutongs".
百顺胡同
Baishun Hutong
百顺胡同位于北京西城大栅栏地区的西南部,全长245米,宽5.7米。明朝时因广种柏树而命名为柏树胡同。清初谐音取"百事顺遂"的含义,故更名为百顺胡同。
Baishun Hutong, 245 meters long and 5.7 meters wide, is located in southwestern Dashilan area in Xicheng District, Beijing. In the Ming Dynasty (1368-1644), the area was planted with many cypress trees. The alley was thus named Baishu (Cypress) Hutong. In the early Qing Dynasty (1644-1911), it was renamed Baishun (meaning"Everything goes well").
京剧文化的摇篮
Cradle of Peking Opera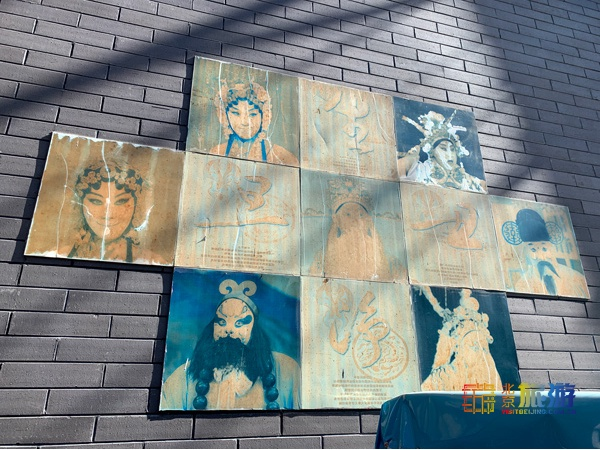 京剧墙画
Peking Opera Murals
百顺胡同是大栅栏街道中的八大胡同之一,也是名气最大的胡同,很多院落自建造起多次易手,前后有不少的京剧大师居住于此。
Baishun Hutong is the most famous among the"Eight Great Hutongs" at Dashilan. Many quadrangle residences here have seen their masters changed several times, and a number of Peking Opera masters once lived here.
听戏唱曲的好去处
An Ideal Destination to Enjoy Traditional Opera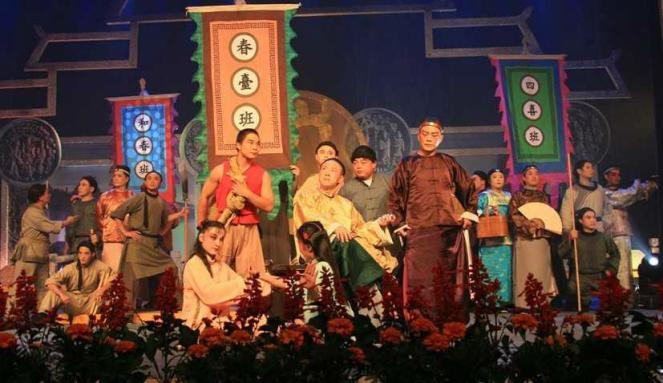 春台班剧照
A still from a performance by Chuntai Troupe
百顺胡同40号院,曾是春台班的旧址。清初,徽剧盛行于安徽及江浙一带,清乾隆年间四大徽班先后进入北京演出,名噪华夏,而春台班就是四大徽班之一。到了乾隆五十五年(1790年),春台班在大栅栏地区的百顺胡同落脚演出,掀起民间一股听戏唱曲的热潮,京剧的雏形开始形成。
The No.40 Compound of Baishun Hutong was the seat of Chuntai Troupe. In the early Qing Dynasty, Anhui Opera prevailed in places like Anhui, Jiangsu and Zhejiang. During the reign of Emperor Qianlong, four Anhui Opera troupes including Chuntai Troupe consecutively performed in Beijing, earning fame around China. In 1790, the 55th year of Emperor Qianlong's reign, Chuntai Troupe began to settle in Baishun Hutong, making traditional opera popular among ordinary people and laying the foundation for the formation of Peking Opera.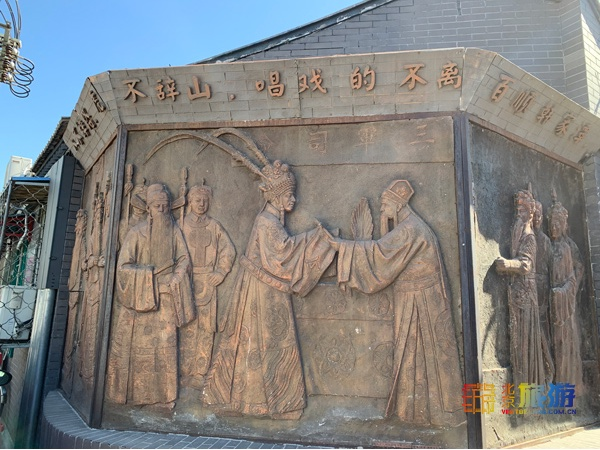 路口的红铜浮雕
A copper relief sculpture on the roadside
一条胡同,半个京城,胡同里的烟火气可谓是最浓郁的。人们白天很少前来听曲,而到了夜晚,这里便"万家灯火耀花街",达官贵人们把这里当作戏园子,饭馆子,而这里也成为了烟叶花柳巷的代名词。
An old saying goes that each hutong epitomizes half of Beijing. One can experience the strongest aroma of life in hutongs. Back then, few visited Baishun Hutong in the daytime. But when night fell, the alley was lit up by numerous lanterns. Many dignitaries came to enjoy traditional operas or eat in restaurants. At that time, it became a synonym to redlight district.
京剧名伶的聚集地
A Concentration of Peking Opera Artists
百顺胡同34号
No.34 Baishun Hutong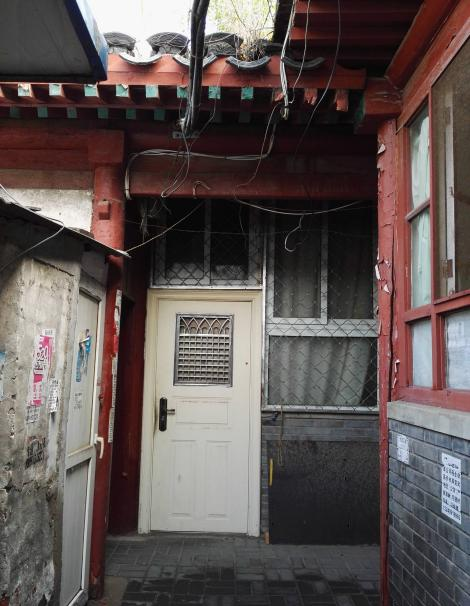 程长庚故居
Former Residence of Cheng Changgeng
是京剧之父程长庚故居。老生是流派最丰富、最能代表京剧艺术精神的行当,而程长庚是京剧老生行当里的"前三杰"。他的技艺精湛,表演风格全面,威望最高,对后世的影响也颇为深远。此院原为砖木结构的四合院式建筑,后改为现代瓦砖建筑。
This is the former residence of Cheng Changgeng, father of Peking Opera. Laosheng (old male characters) represents the most diverse genre of characters that can fully demonstrate the spirit of Peking Opera. Cheng was one of the"three pioneers" among laosheng artists of Peking Opera. He is noted for his superb skills, comprehensive competence and high prestige, casting far-reaching influence on later generations. The residence was initially a brick-and-wooden siheyuan (quadrangle compound) and later reconstructed into a modern tile-and-brick building complex.
百顺胡同38号
No.38 Baishun Hutong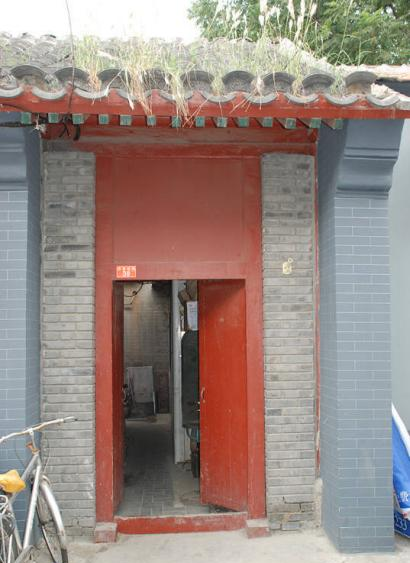 迟月亭故居
Former Residence of Chi Yueting
是著名京剧武生迟月亭故居。迟月亭以短打戏见长,演戏细致认真,武打敏捷稳练,是德艺双全的京剧大师。他与另一位著名的京剧大师杨小楼前后同台长达25年之久,极尽绿叶衬托红花之美。
1938年至1942年间,迟月亭曾在中华戏曲专科学校任教,他的学生回忆道:"老先生时常教导我们要想人前显贵,就得人后受罪,但这个'贵'不是富贵,穿绫罗绸缎,住洋房坐汽车,而是在台上穿蟒袍玉带、戴盔头翎子重要角色,受到观众的认可,这叫'贵'。"
This is the former residence of Chi Yueting, a Peking Opera artist famous for acrobatic fighting. He was earnest towards performance and especially noted for agile, robust acrobatic fighting movements. He was Peking Opera master famous for both moral integrity and artistic skills. He had been partnered with Yang Xiaolou, also a prestigious Peking Opera master, for 25 years, and the two set off each other in performances.
From 1938 to 1942, Chi taught at the Chinese Theatre Arts College. One of his students recalled,"Our teacher often warned us that dignity on stage derives from painstaking practice backstage.'Dignity' doesn't mean earning great wealth, wearing fancy clothes, dwelling in luxury houses, or driving nice cars, but play leading roles on stage and win recognition from the audience."
百顺胡同40号院
No.40 Baishun Hutong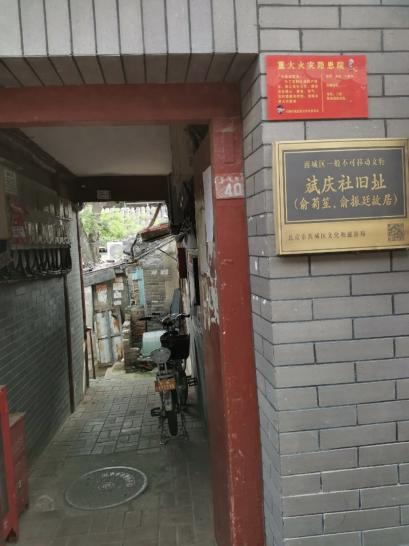 斌庆社旧址
Site of Bingqing Troupe
这所宅子前后居住过很多老艺人,可算是当年梨园艺人的聚居之地。但现由于保存不当,建筑主体已经破旧不堪,经过改造变成现在的居民楼。
Many older-generation Peking Opera artists once lived in this old residence. Due to decades of weathering, however, its original structures were dilapidated, so it was reconstructed into a residential building.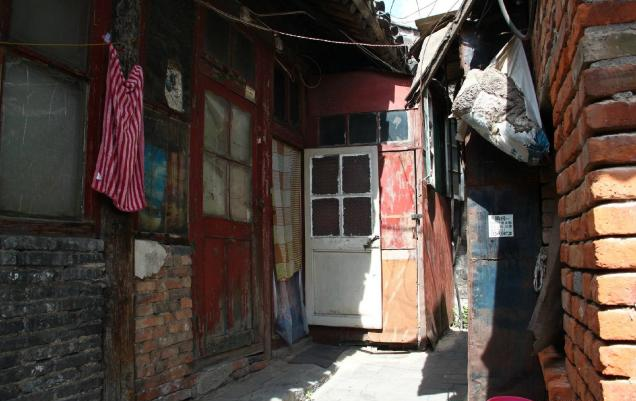 百顺胡同40号
No.40 Baishun Hutong
胡同往事如烟
History of Hutongs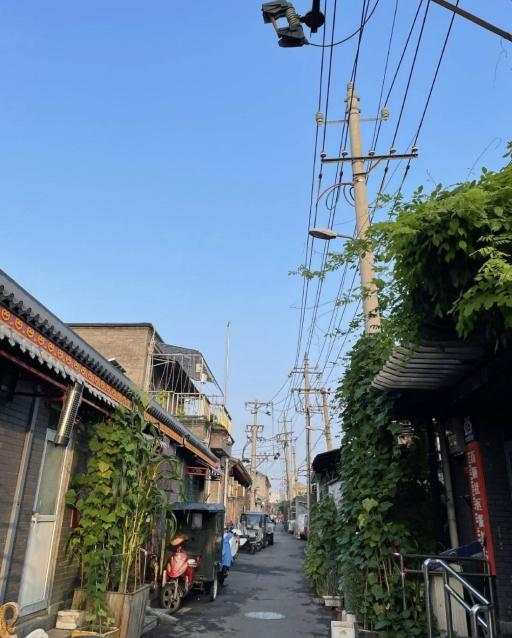 百顺胡同现状
Status Quo of Baishun Hutong
昔日的浅吟低唱,唱念做打与动人传说,都不曾磨灭,并且历久弥新。当年听戏唱曲的地方,已经变成了普通人居住的大杂院,这里早已门庭冷落。只有那少数雕刻精美的廊柱雕楼屹立着,仿佛在引领人们去追溯那逝去的名伶余韵,诉说着胡同昔日的辉煌与喧嚣。
The melodic singing of traditional operas and the touching stories of the past still linger in the lane, and memories become even fresher with the passage of time, although former theaters have been converted into residential buildings. A few exquisitely carved arcades and pavilions remain, reminding people of the famous artists of yesteryears and the glorious, bustling past of the lane.
请持续关注"胡同文化"系列
Please follow us on the"Hutong Culture" series
胡同是北京深厚久远历史的产物,在这里你能够体会到最正宗的老北京味儿。北京的胡同,任岁月变迁,依旧不急不缓地伸展着,向来者讲述着自己的前世今生,《胡同文化》系列栏目将继续走进北京的老胡同,打捞记忆深处的胡同文化,敬请期待!
Hutongs are fruits of Beijing's development in a long time, where you can taste the most orthodox flavor of the ancient capital. With the changes of the times, Beijing's hutongs are still gradually evolving. They tell visitors the past and present stories of Beijing. The"Hutong Culture" series will continue brining audiences to old lanes of Beijing to awaken memories of the old hutong culture. Please stay tuned.
本文图片均来源于网络,如有侵权请联系删除
参赛方式:1. 登录赛事指定网站www.bocec.cn的赛事活动版块;2. 关注"北京海外文化交流"微信公众号输入"吉庆生肖"进入报名页面;3. 通过赛事宣传媒体进入指定参与赛事页面进行赛事参与。
Ways of the participation:1.The participant could register on the designated website www.bocec.cn;2.Follow the WeChat official account of "Beijing Overseas Cultural Exchanges", type the "Zodiac Design Competition" to enter the page of Competition application;3.Enter the designated Competition webpage through the Competition's media platforms.