>
国际
长安雅集 | 跨越时空邂逅"百戏之祖"——昆曲
发布时间:2022-09-22 10:53:52 | 来源:中国网 | 作者: | 责任编辑:
-长安雅集-
Chang'an Elegant Gathering
跨越时空邂逅"百戏之祖"
昆曲
Kunqu Opera
Mother of All Chinese Operas
"长安雅集"是北京市海外文化交流中心2021年打造的品牌项目。该活动继承了中国古代文人雅士的"雅集"概念并加以拓展,以"沉浸式美学体验",呈现"文化之源"的精髓内涵。
2022年长安雅集将继续深入挖掘北京传统文化内涵,融合节气、风物与文化,呈现中式美服、茶具茶点、中轴线上的建筑、中外戏剧等主题。以时尚化表达呈现中国古典之美,并促进和实现多元文化的交流互鉴。今日,就让我们一同走进昆曲,近距离感受昆曲的行腔优美,缠绵婉转。
"Chang'an Elegant Gathering" is a signature program launched by Beijing Overseas Cultural Exchanges Center in 2021. An inheritance and expansion of the"elegant gatherings" of the literati in ancient China, the program provides"immersive aesthetic experience" to showcase the essential connotations related to the origins of culture.
The 2022 Chang'an Elegant Gathering continued exploring the essences of traditional Beijing culture that combines solar terms, landscapes, folk customs, and other cultural elements, demonstrating the charm of Chinese costumes, tea sets, dim sum, old buildings on the central axis of the city, and Chinese and foreign dramas. It showcased the classical beauty of China in a fashionable way, and promoted and achieved exchange and mutual learning of diverse cultures. Today, let's have a close look at Kunqu Opera and experience its melodic, enchanting singing.
活动回顾
Event Review
在此次"长安雅集——昆曲篇"活动当中,特别以沉浸+体验式方式为大家编织了一个"穿越六百年的辉煌梦境":由中国戏剧家协会副主席、梅花奖获得者、北方昆曲剧院院长杨凤一亲自带观众,以展厅游览体验、聆听授课、欣赏表演等形式感受昆曲的前世今生。
The event"Chang'an Elegant Gathering – Kunqu Opera" woven a"brilliant dream that traverses 600 years". Yang Fengyi, vice chairman of the China Theatre Association, winner of the Plum Blossom Award, and president of the Northern Kunqu Opera Theatre, served as a"tour guide" to show audiences the past and present of Kunqu Opera through visiting exhibitions, listening to lectures, and enjoying performances.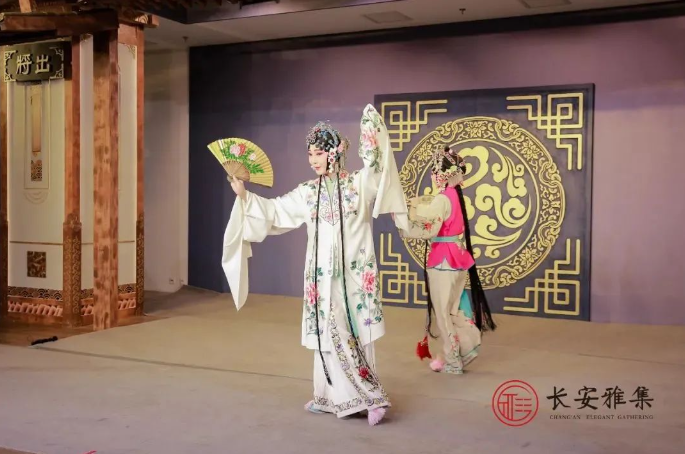 活动现场
At the event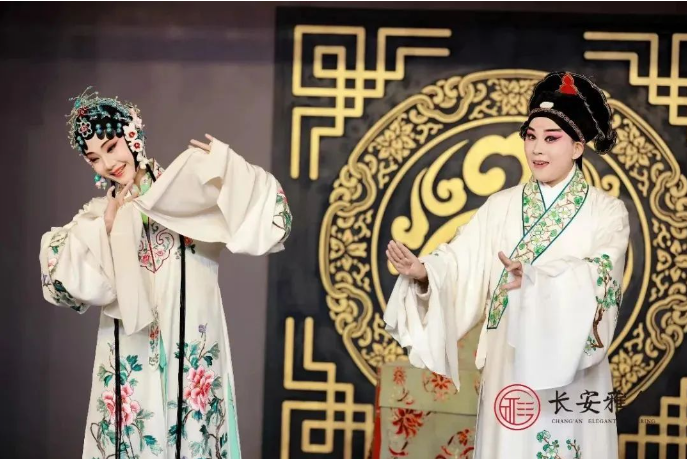 活动现场
At the event
活动还邀请到了北方昆曲剧院的演员们为观众表演展示,于现场表演了昆曲经典剧目《牡丹亭》选段《游园惊梦》,带领观众穿越600年昆曲梦境,昆曲魅力跃然眼前,现场掌声不断。
At the event, artists from the Northern Kunqu Opera Theatre performed"Sweet Dream in a Garden", an act from The Peony Pavilion, enabling audiences to enjoy the fantastic charm of the 600-year-old Kunqu Opera. Their wonderful performance evoked thunderous applause.
关于昆曲
About Kunqu Opera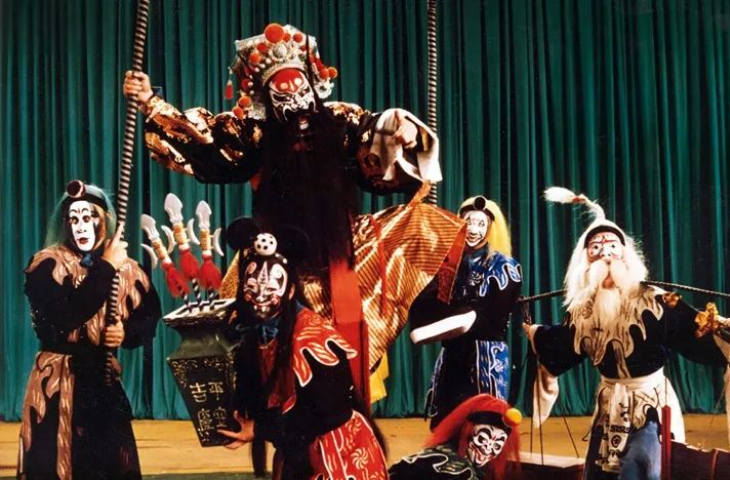 图片来源:中国非物质文化遗产网
Photos from www.ihchina.cn
昆曲是中国古老的戏曲声腔、剧种,现又被称为"昆剧"。昆曲的历史可追溯到600多年前的苏州,作为我国传统的戏曲,兴盛于明清时期。作为世界上最古老的剧种之一,昆曲与古希腊悲剧、印度梵剧齐名,而在历史的进展历程中,只有中国昆曲留存了下来。昆曲在2001年被联合国教科文组织列为"人类口头和非物质遗产代表作",2008年被纳入《人类非物质文化遗产代表作名录》。
昆曲的唱腔具有很强的艺术性,对中国近代的所有戏剧剧种,如川剧、京剧都有着巨大的影响。昆曲表演包括唱、念、做、打、舞等,这些内容亦是培训京剧演员的基本科目。昆腔及其戏剧结构(旦、丑、生等角色)亦被其他剧种所借鉴。《牡丹亭》、《长生殿》是昆曲表演中的传统保留剧目。表演过程中将使用锣鼓、弦索及笛、箫、笙、琵琶等管弦和打击乐器进行伴奏。
Kunqu Opera, also known as Kunju, is an old traditional opera in China. It originated in Suzhou more than 600 years ago. This traditional opera reached its heydays during the Ming (1368-1644) and Qing (1644-1911) dynasties. One of the oldest operas in the world, Kunqu Opera was as famous as ancient Greek tragedies and Indian Sanskrit dramas. Among them, Kunqu Opera is the only surviving the test of time. In 2001, it was listed by UNESCO AS a"Masterpiece of the Oral and Intangible Heritage of Humanity", and then inscribed onto the Representative List of the Intangible Cultural Heritage of Humanity in 2008.
Kunqu Opera is famous for its artistic singing style and has exerted profound influence on all other traditional operas in modern China, including Sichuan Opera and Peking Opera. The performance of Kunqu Opera involves singing, soliloquy, acting, acrobatic fighting, dancing, etc., which are also the basic skills for Peking Opera artists. The characterization of Kunqu Opera, such as dan (female), chou (clown), and sheng (male), as well as its dramatic structure, is copied by other traditional operas. The traditional theoretical pieces of Kunqu Opera include The Peony Pavilion and The Palace of Eternal Youth. In performance, the singing is accompanied by orchestral and percussion instruments such as gongs, drums, stringed instruments, flutes, xiao (a vertical bamboo flute) and pipa (a four-stringed Chinese lute).
独特唱腔-水磨调
Unique Singing Style – Shuimo Tune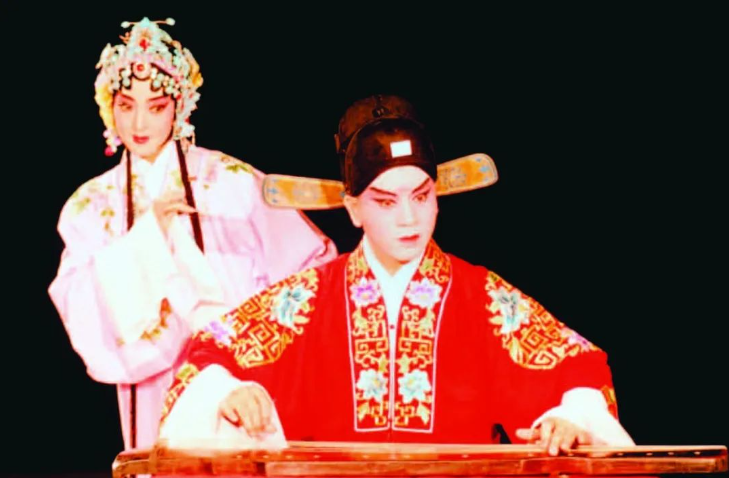 图片来源:中国非物质文化遗产网
Photos from www.ihchina.cn
元末明初具有代表性的声腔有四种,分别是余姚腔、海盐腔、弋阳腔、昆山腔,昆山腔就是昆曲的前身。顾坚相传是昆山腔的创始人,也就是昆曲鼻祖。在明朝中期,顾坚、魏良辅等艺人对昆山腔做了改革,分别吸取了其他的三大声腔的特色,并将昆山腔抑扬顿挫、绵软悠长的特点发挥到极致,这才形成了现在的水磨调。
新变昆腔在咬字发音上,富有字头、字腹、字尾、开口、闭口、鼻音等各种技巧,喉转声像蚕丝一样轻柔婉转,成为一种舒徐凄婉的全新腔,称"水磨调"。
During the period from the late Yuan Dynasty (1271-1368) to the early Ming Dynasty, there were four representative singing styles, namely, Yuyao Tune, Haiyuan Tune, Geyang Tune and Kunshan Tune. Kunshan Tune was the predecessor of Kunqu Opera. It is said that Gu Jian invented Kunshan Tune, so he is dubbed the"Father of Kunqu Opera". In the mid-Ming Dynasty, such artists as Gu Jian and Wei Liangfu reformed Kunshan Tune by absorbing elements from other three singing styles. They gave full play to the cadent, gentle and melodic style of Kunshan Tune, gradually forming today's Shuimo Tune.
The reformed Kunshan Tune featured superb skills in the pronunciation of every word, and the sound is as soft and smooth like silk. Eventually, it turned into a totally new singing style called Shuimo Tune.
名家大师汤显祖
Renowned Dramatist Tang Xianzu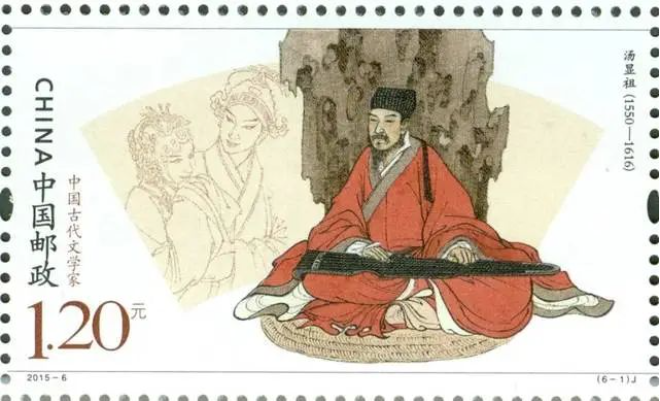 中国邮政发布的中国古代文学家——汤显祖邮票
This is a stamp depicting Tang Xianzu, a famous playwright in ancient China,
which was issued by China Post.
汤显祖,江西临川人,出身书香门第,早有才名,不仅于古文诗词颇精,而且能通天文地理、医药卜筮诸书。作为一个天才,汤显祖在诸多方面都有不错的成就,不过其中最为著名的便是戏剧创作。
汤显祖一生共创作了五部戏曲作品,分别为《紫钗记》、《牡丹亭》(《还魂记》)、《南柯记》、《邯郸记》,这四部作品被合称为"临川四梦",另外还有一部尚未完成的残本——《紫箫记》。
Tang Xianzu was born into a family of intellectuals in Linchuan, Jiangxi. He was already famous for his talent when he was young. In addition to poetry and literature, he also exceled at astronomy, geography, medicine, and divination. As a genius, Tang made remarkable achievements in many fields, but his most renowned accomplishment lied in traditional opera creation.
Tang created five plays throughout his life, including The Legend of Purple Hairpin, The Peony Pavilion (also known as The Return of Soul), A Dream under the Southern Bough, and The Dream of Handan, which are collectively known as"the Four Dreams of Linchuan", as well as an unfinished piece – The Legend of Purple Flute.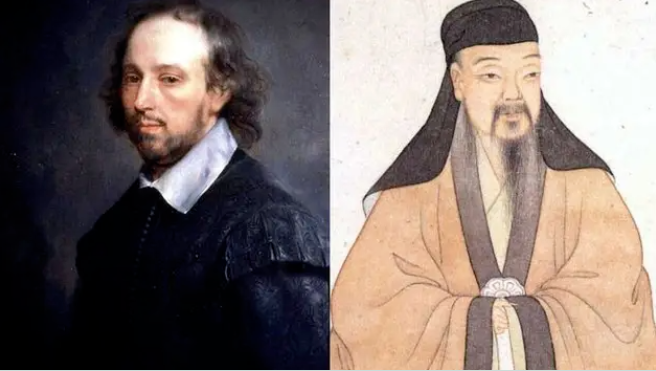 莎士比亚和汤显祖
Shakespeare and Tang Xianzu
汤显祖戏曲作品的影响力横贯东西,日本戏曲史专家青木正儿在其著作《中国近世戏曲史》(1916)中首度将中国的汤显祖与英国的莎士比亚相提并举,赞誉二人为"东西曲坛伟人"。汤显祖比英国大戏剧家莎士比亚大15岁,莎士比亚在英国创作《罗密欧与朱丽叶》时,汤显祖正在谱写昆曲艺术的鼎盛之作《牡丹亭》。这两位东西方戏剧家的作品都是世界文学宝库的瑰宝,故也有将两位大师称作"戏剧双子"的说法。
Tang Xianzu's works have exerted influence both in the East and West. In his book History of Modern Chinese Drama (1916), Japanese drama historian Aoki Masaru first compared Chinese dramatist Tang Xianzu with British playwright Shakespeare, and praised the two as"great men of Eastern and Western dramas". Tang was 15 years older than Shakespeare. While Shakespeare was writing Romeo and Juliet in Britain, Tang was working on the Kunqu Opera classic – The Peony Pavilion. The works of both dramatists are brilliant treasures in the trove of world literature. For this reason, they are dubbed the"two masters of drama".
经典剧目-牡丹亭
Kunqu Opera classic – The Peony Pavilion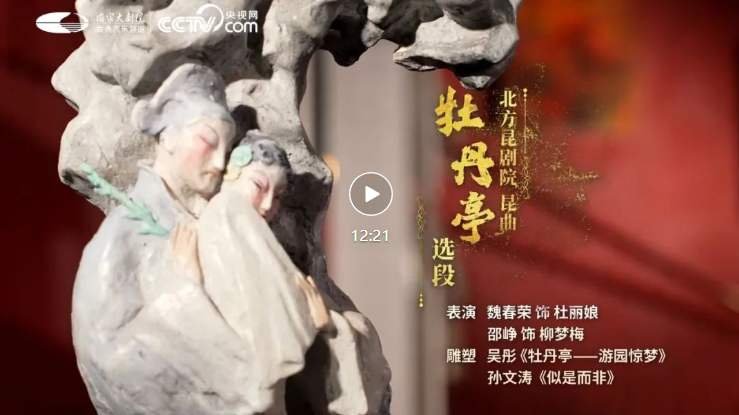 北方昆剧院-《牡丹亭》选段
视频来源:国家大剧院
Part of The Peony Pavilion, presented by the Northern Kunqu Opera Theatre
Video from the National Centre for the Performing Arts
《牡丹亭》作为中国戏曲史上杰出的作品之一,与《西厢记》《窦娥冤》《长生殿》(一说《西厢记》《长生殿》《桃花扇》)合称中国四大古典戏剧。
该剧描写了官家千金杜丽娘对梦中书生柳梦梅倾心相爱,竟伤情而死,化为魂魄寻找现实中的爱人,人鬼相恋,最后起死回生,终于与柳梦梅永结同心的故事。《牡丹亭》突破了中国传统伦理道德中情与理的冲突,将昆曲的题材大大的拓宽,因此成为了昆曲历史上不可多得的巨作。
The Peony Pavilion is one of the most outstanding works of traditional Chinese operas. It ranks among the"Four Classic of Traditional Chinese Opera" alongside The Romance of West Chamber, The Palace of Eternal Youth, and The Injustice to Dou E (or The Peach Blossom Fan as some hold).
The play tells such a story: Du Liniang, daughter of a senior official, falls asleep and encounters in her dream a young scholar, Liu Mengmei, whom she has never met before in real life. She eventually dies of lovesickness. As a ghost, she doesn't give up looking for Mengmei. Eventually, Liniang returns to life and the two get married. The story told by The Peony Pavilion goes beyond traditional Chinese ethics and expands the subjects of Kunqu Opera, making the play a rare masterpiece in the history of this art form.
昆曲的文辞典雅、生动
具有极高的艺术价值
作为中华优秀传统文化的
杰出代表之一
昆曲如今已成为了一个文化标识
吸引越来越多的人
走进昆曲、传承昆曲
彰显了来自大国的
文化自觉、文化自信
Kunqu Opera features
elegant lyrics and vivid acting,
and has high artistic value.
An outstanding representative of
China's fine traditional culture,
Kunqu Opera has evolved into
a cultural icon that attracts
more and more audiences.
The effort to understand and inherit
Kunqu Opera demonstrates
China's cultural consciousness and
confidence as a major country.
持续关注"长安雅集"栏目
将为您带来更多中国文化体验盛宴
Follow"Chang'an Elegant Gathering"
to experience more traditional Chinese cultural legacies
2022年"长安雅集"将继续把民俗节气、传统服饰、中轴建筑、中外戏剧等传统文化元素与现代潮文化元素进行碰撞、融合,邀请各专业机构、各领域专家学者参加,让观众亲身体验中国文人生活方式,展示北京深厚的历史文化底蕴,打造各产业、各领域的文化体验盛宴,敬请关注!
The 2022 Chang'an Elegant Gathering continued exploring the clash and integration between modern fashionable elements and traditional cultural elements such as folk customs, traditional costumes, old buildings on the central axis of the city, and classics of Chinese and foreign drama. The event was attended by experts from various professional institutions and sectors, and allowed audiences to experience the lifestyles of Chinese literati. It also showcased Beijing's profound history and culture and presented a cultural feast involving a plethora of industries and sectors. Please follow us to enjoy it!